Steel kitchen cabinets are an excellent addition to your kitchen as they add extra sparkle and sleek look to your kitchen space. However, keeping them clean and shiny can sometimes be overwhelming. Stainless steel is a durable and easy-to-clean material that also looks great but it is not a maintenance-free material. If not well cared for, stainless steel can rust. Fortunately, caring for your steel cabinets is extremely easy.
Stainless steel contains a chromium film that makes is highly resilient which means that it is resistant to tarnish and corrosion hence it is used for many household items. Over time, stainless steel can become damaged by grease, dirt among other harmful contaminants which is why it is important to keep your steel kitchen cabinets clean and shiny at all times. In this article, we will highlight 8 expert tips on making your steel cabinets shine.
1. Avoid Harsh Cleaning Products
Harsh chemical cleaners especially those containing chlorine should be avoided as they can damage the surface of your steel cabinets. Bleaches should not be used to clean stainless steel since they contain chlorine which will damage the surface of your kitchen cabinets. Once the surface of stainless steel cabinets is damaged, there is not so much that can be done to restore the original shine, so always be extra careful when using new chemical cleansers.
2. Use Vinegar
One of the most effective cleaners for your steel cabinets in kitchen is vinegar. This household staple is almost a must-have in most homes due to its numerous uses. Vinegar is a great stainless steel cleaner as it contains acetic acid which thoroughly cleans oils and other contaminants on the surface. Simply add undiluted white vinegar into a small spray bottle and wipe down the surface of your steel cabinets with a soft and lint-free piece of cloth. Lemon juice is another excellent option that works just like vinegar. Steel drawer pulls and cabinet knobs can be soaked in a glass bowl containing vinegar for at least a minute before being wiped dry with a piece of lint-free or microfiber cloth.
3. Use Soft Cleaning Cloths
Scouring pads and powders should also not be used on stainless steel as they will scratch the surface and make it look dull and unattractive. Lint-free cleaning cloths such as microfiber are highly recommended for cleaning your steel cabinets since they will not scratch the surface or leave behind threads or unattractive streaks on your kitchen cabinets like most paper towels. Microfiber cleaning cloths can be used with plain water or vinegar solution and they will leave your steel cabinets looking shiny and classy plus you will also save on paper towels.
4. Use the Right Wiping Motion
Stainless steel cabinets are prone to streaking, so it is advisable to wipe them in a circular motion instead of a vertical wiping fashion. Once you apply vinegar or any other cleaning solution to the surface of your steel kitchen cabinets, let the cleaner set in for about a minute before using a sponge or microfiber to clean your kitchen cabinets in circular motions.
5. Use Rubbing Alcohol
When cleaning tough grease stains, isopropyl alcohol can just do the trick. Use a piece of cloth soaked in this alcohol and try rubbing on the grease spot until the grease stain disappears. However, when rubbing the grease, be careful not to scratch the surface.
6. Use Baking Soda
Baking soda can handle the toughest stains on your steel cabinets. Mix it with a little water to create a paste and rub it on the stain. Allow the paste to sit for at least 15 to 20 minutes and then scrape it off with a damp cloth. When using baking soda, ensure that you rinse it properly to avoid leaving behind a film of baking soda.
7. Avoid Hard Water
Hard water should not be left to stand on stainless steel surfaces for a long period of time. It is advisable to have a system in place to soften or treat your hard water as it can damage the shiny surface of your steel cabinets in kitchen.
8. Clean Your Steel Cabinets In Kitchen Regularly
Regular cleaning of your kitchen cabinets ensures that they remain clean and shiny all the time. Steel cabinets only require simple and regular maintenance at least once every week depending on use. But the interiors will need a deep clean every few months.
For the best steel kitchen cabinetry, get in touch with Fadior Kitchen today. We are professional steel kitchen cabinets manufacturers in China offering the best quality products that match our customers' kitchen design and style.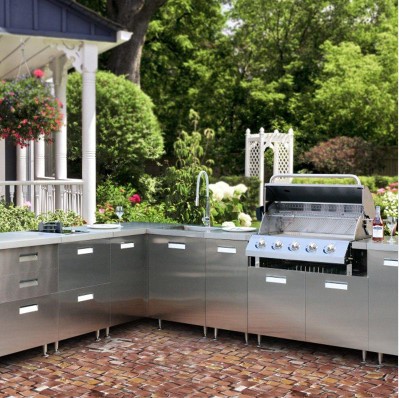 Quick Details:
| | |
| --- | --- |
| Type:Kitchen Cabinets | Place of Origin:China (Mainland) |
| Brand Name:FADIOR | Model Number:HY001 |
| Accessories:Backsplash, Drawer Basket, Drawer Slide, Faucet, Handle & Knob, Hinge, Lazy Susan Storage, Rice Box, Sink, Toe Kick, Waste Container | Style:Antique, Classic, Modern all are available, Antique, Classic, Modern all are available |
| Carcase Material:stainless steel | Door Material:stainless steel |
| Door Panel Surface Treatment:stainless steel | Cabinet Type:Modular Kitchen Cabinets |
| Countertop Material:Stainless Steel | Countertop Edging:Flat Edge / Eased Edge |
| Name:Stainless Steel Kitchen Cabinet | Material:304 Stainless Steel |
| Dimensions:customized | Thickness:18mm |
| MOQ:1 set | Warranty:30 years |
| Certification:ISO9001:2008 | Payment terms:T/T or L/C at sight |