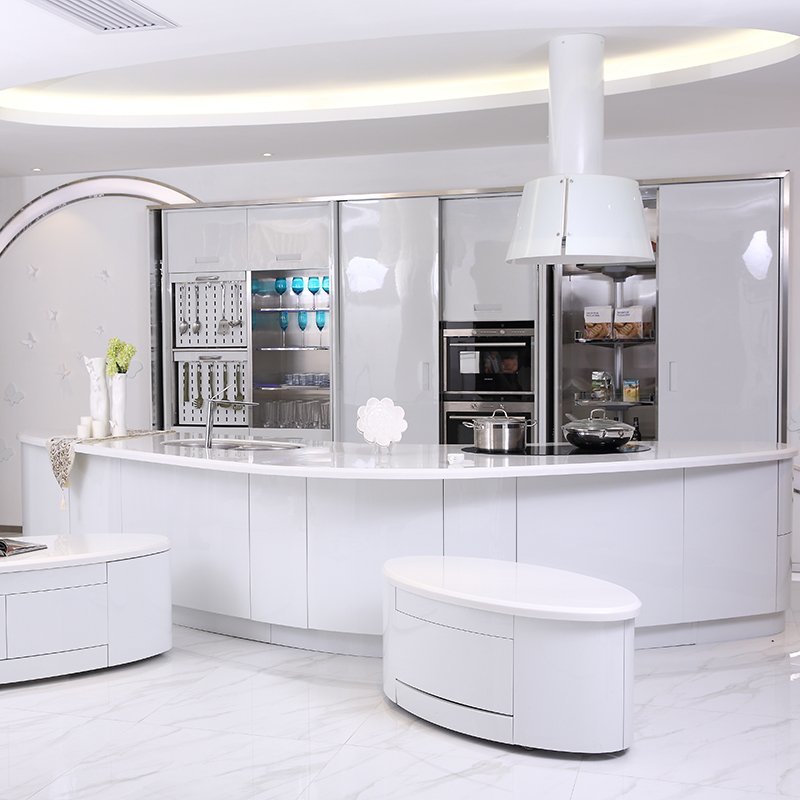 The kitchens of today are nothing like the kitchens of years gone by. Kitchens have attained revolutionary functionality and designs because of the growth of modern amenities, classy designs, technological innovations, and beautiful interiors. The transitional kitchens have undergone a drastic transition as they have morphed into modular kitchens who have beautiful cabinets, modern lighting, stylish counter tops, modern crockery and modern equipment. Modular kitchens too can be found in various forms: with island kitchens, galley kitchens and L and U shaped kitchens being a hit with homeowners.
One of the nicest revolutions in the industry has been the introduction of modular stainless steel kitchen. And that is because it not just comes with beautiful and pleasing designs, it has also found favor with a lot of smart consumers. These kitchens can fight fire and water, which translates you being able to enjoy a much safer experience of cooking and lead a life that is hassle free where you do not have to be worrying about soggy or tarnished cabinets. The fact that your kitchen is an all steel kitchen will mean that you will be able to keep your lovely kitchen and the home as well free of passengers because it is absolutely resistant to any kinds of pests and termites. These stainless steel kitchens are for sure the smartest choice that you can make to have a smart home. Do you know what else could be smarter? Ordering your kitchen cabinets direct from manufacturer so you can get factory prices.
Here are some of the reasons that will absolutely make you want a stainless steel kitchen:
Exceptionally beautiful and exceptional designs
If you do happen to have a stunning looking home with the choice of finest and interior designs, you should think about revamping your entire kitchen with a modern Stainless Steel style. If you long for a modern touch to be given to your interior and home, stainless steel kitchen upholstery will help you in getting exactly the looks that you have been dreaming of. The modern styled cabinets, the breathtaking counter tops with a flashy finish will just give you an aura that you would have never seen before as part of your cooking experience.
Fungus free hygienic kitchen
Modular kitchens equipped with stainless steel provide you protection against even the smallest of the issues that can somehow bother you. You no longer have to worry about stains, there will no more threat of getting termites or fungus inside your kitchen. All that you will see is a rich looking kitchen with a bright shiny stainless steel looks. Stainless steel is not porous and hence you will not need to worry about fungus and termites which can definitely spoil the hygiene and quality of the food they come in contact with. Safety is the very first thing that crosses your mind when you are searching for ideas for your master kitchen which will have all modern amenities. Modular kitchens donning Stainless Steel provide a very safe experience of cooking and provide you with best results.
Most desirable designs which need low maintenance
You may refurbish the kitchen layouts using the best quality of furnishings made from stainless steel inside the kitchen. You can transform your old kitchen into a breathtaking modular kitchen using the best of the layouts that are not only pleasing on eyes but also a smart addition to your house. Very easy in maintenance and free of rust stainless steel cabinets will make love your kitchen again. We all understand how tough can maintenance and cleaning of a kitchen usually gets. And this is exactly where a kitchen donning all Stainless Steel comes to your rescue. All you will need is a cloth and a cleaner in order to get a dazzling shiny bright kitchen again.
It is high time you made the smart decision to get a new kitchen you really deserve. The time to make the smart decision is now. Consider safety, style, maintenance, quality, durability, class, flexibility along with so many more important parameters that need to be considered for undertaking design of a kitchen and you are sure to always find that a kitchen donning Stainless Steel is your best option.