"Antibacterial" stainless steel technology revolution and new applications -------Fadior signed a strategic cooperation agreement with TISCO


April 4, 2014 , Fadior Stainless Steel Cabinets and Taiyuan TISCO signed a strategic agreement on application, trading and related cooperation of new material "antibacterial" 304 stainless steel , which is a win-win milestone in Chinese cabinetry industry.

TISCO Stainless Steel Industrial Park is the largest stainless steel producer - Taigang Stainless Steel Co.,Ltd's wholly-owned subsidiary, TISCO focuses on the research, development, production and processing of stainless steel, special steel and high grade of carbon steel, with strong R&D strength and reliable quality assurance ability. TISCO Technology Center ranks the fourth in the 887 enterprise's technology centers ratified by the state.

Fadior, launching the world's first non-formaldehyde cabinet with unique design inherited from the design of Florence, is a pioneering manufacturer for kitchen cabinetry in China. Advanced technologies of Fadior include one - piece seamless cabinet processing, multi-holes bending technology, 90 degree straight edge technology and etc.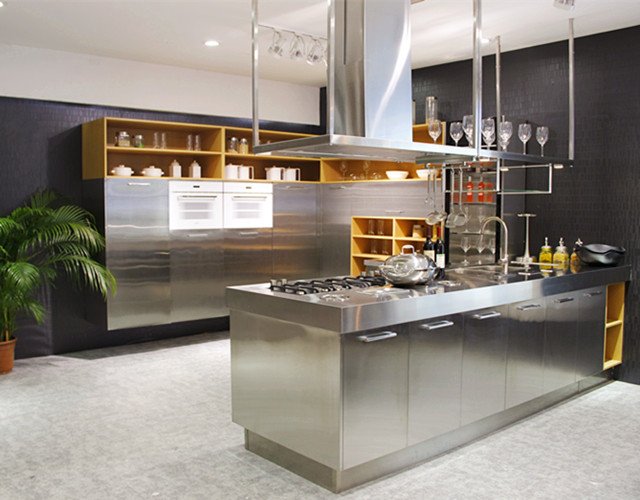 Fadior's strategic cooperation with TISCO , enable it to be the world's first high-end brand cabinets who use of "antibacterial" stainless steel, create the most durable and most healthy kitchen for thousands of families! "Antibacterial" stainless steel enjoys antiseptic self-cleaning effect, with long-lasting, excellent antibacterial properties, the killing rate above 99 % on E. coli, Staphylococcus aureus, which can be used in food equipment, pharmaceutical machinery, medical equipment, kitchen utensils, the facilities in public places and other industries and fields.