On the morning of September 5, the new generation stainless steel kitchen cabinet was unveiled in the new product and new technique release conference, which held in the Vienna Hotels in Foshan. From panel molding, cabinet structure, assembly, to the brand new storage system and module design, Fadior's new generation cabinets are different from the existing cabinet manufacturing technology. On this occasio, we are honored to interview Miss.Shen, assistant to the chairman of Guangdong Fadior kitchen, talk about the current situation of the stainless steel industry and the development trend of stainless steel cabinets.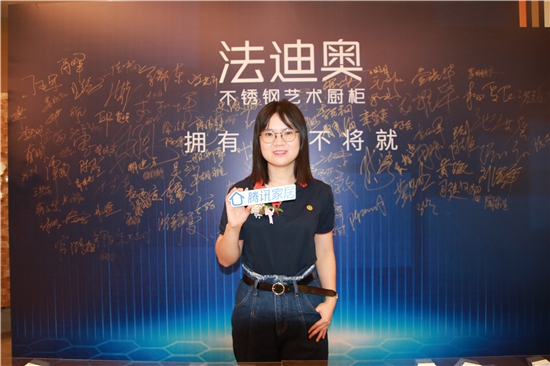 [ reporter ] : This year is a year of changes. In addition to consumer upgrades, we are also facing a trend of house renovation and a trade war. What kind of adjustments will fadior makes to face the challenge? What are your plans for the future?
[ Shen ]: The impact of the trade war on Fadior is actually relatively small. On the one hand, we are deeply involved in the domestic market. On the other hand, the impact of the trade war on wooden products is even greater. It also gives fadior a competitive edge. As for our current channel layout, what we do is more like a consumer-oriented brand, aimed at the current consumer home upgrade, so we need to have better services better consumer channels to open our market.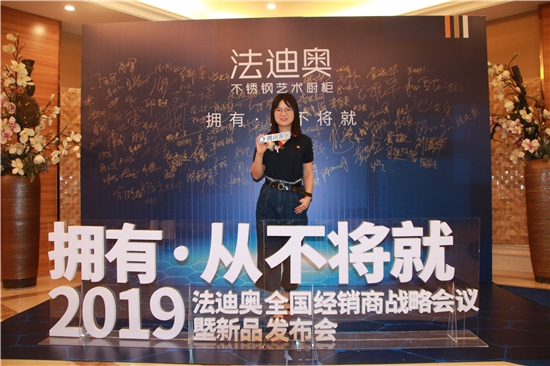 To solve the above problems, we have given great efforts to our dealers, such as provide more service and maintain with them, to help them integrate with the designers and establish their own designer channels and to deal with customers.
[ reporter ] : Fadior defined year 2019 as"the first year of design era" , then what changes do you think design will bring to the development of the enterprise?
[ Shen ]: Li Fenglang is the designer of the torch for the Beijing Olympic Games 2018. He likes Fadior 's products so much because our products are good and leading in design. With a leading design capability, when the terminal designer recommend products to consumers, quality become the most important factor. Fadior has been committed to enabling products through design, so that consumers can fall in love with the product at first sight.
[ reporter ] : Now there are more and more homogeneity product on the market, How does Fadior enhance its core competitiveness in this market environment?
[ Shen ]: Now it really has a serious homogenization atmosphere in home furniture market, especially in the wood furniture, but stainless steel cabinets and stainless steel furniture, only accounts for less than 10% of the industry, so there is still a very large room for growth. In the past, for Fadior, there may be manufacturing difficulties in some production processes, we can't produce mass volumes. However, at this stage, Fadior's mission is to bring stainless steel cabinets and stainless steel home furniture to thousands of households, so we are upgrading our technology.
[ reporter ]: Which design style do you think consumers prefer now? What do they focus more in the design?
[ Shen ]: In the last two years, I have found that people pay much attention to beauty and design, which is why we have invited Dr. Liang Jinghua as our spokesperson to enhance our design team. We need a senior design magnate to explain to us what is design and how to make the family more beautiful. This is one of the development directions of fadior in the future.
[ reporter ] : Can you tell us the next plan of Fadior?
[ Shen ] : This is an era of alternating, we are planing to start a smart kitchen plan and work with companies focused on this field to develop a radio project that will allow appliances in the kitchen to operate without the need for a plug and heavy wiring. I believe that this fall Fadior will bring the market an unexpected surprise.
[ reporter ] : Thank you for your time.