An elegant kitchen is an inseparable part of every modern house. A kitchen, however, should not only be classy and good-looking, but functional and resistant as well. Nowadays, all the more stainless steel kitchen manufacturers promise to give your kitchen a new look that will provide your whole house with an air of freshness and ease of maintenance. If you are wondering about the type of kitchen cabinets that are ideal for your house, then the stainless steel ones are definitely worth your attention.
Stainless steel kitchen manufacturers create customized kitchen cabinets that come in a variety of designs and styles, along with long-lasting quality and an eco-friendly approach. Here is a list of the most important benefits that stainless steel kitchen cabinets can offer clients, provided that they choose to purchase them from a reputable and well-established company.
-High durability
Stainless steel is the only material that can promise high durability. Compared to wooden or metal cabinets which are also, a popular choice, the stainless steel material is made of high chromium or nickel-enriched steel that has no chances of getting cracked or rusted.
Stainless steel is also, extremely resistant to harsh weather conditions or high temperatures and it cannot be easily affected by fire, as well. Therefore, even if you place your hot pan on the surface of the counter, it will not suffer from any damage.
-Easily maintained
A major benefit of stainless steel cabinet is its ability to get easily cleaned. The special characteristic of this material is that every stain that gathers on its surface can be easily removed with the use of a wet cloth. No need to use strong chemicals or other possibly hazardous cleaning products. Its long-lasting endurance is also, key to the easiness with which you can maintain the cabinets, even after some years of installing them in your kitchen.
-Eco-friendly and hygienic
Stainless steel, unlike other materials, is 100% recyclable. That being said, it is much preferable compared to wooden surfaces that can really harm mother nature. Another major advantage that stainless steel kitchen manufacturers have been aware of is the fact that this type of material does not require the addition of any polish or varnish materials. That ensures that no chemical will come in direct contact with your foods or any other object you have to place on top or inside each cabinet.
-Great designs
Stainless steel cabinets come in a variety of colors and styles that will suit the style of every house. From traditional to more modern options, and with the ability to combine a countertop and sink in one unit, the stainless steel kitchen cabinets have a high storage capacity along with a unique design.
The luxurious look that such a cabinet is gonna give your place that cannot be outmatched by similar materials. You can use some glass for the backsplash, particularly if you have no windows, you can go for some shiny steel elements that will give an air of modernism to your kitchen or you can combine stainless steel with subway tiles and some white countertops to create a fantastic result.
-Versatile metal
Stainless steel is a highly versatile metal. What does that mean? That stainless steel kitchen manufacturers can easily create different alloys of the material just by removing or adding a few elements. Among the most widely used stainless steels, the 304 steel is high on the list. It is ideal for a cabinet because it entails with carbon and iron, and it is the best solution for food preparation, as well as for sinks, ice chests and storage cabinets.
Since it is not the most affordable material you can find on the market, it is important to know that stainless steel will make up for the initial costs several times. Its longevity and durability, along with its high-resistance are the keys to ensuring this aspect of the deal.
Stainless steel can be manufactured, cut and customized easily, and that increases its adaptability and applicability. For this reason, it is nowadays the first choice for customers looking for stainless steel kitchen cabinets. All in all, a stainless steel kitchen offers a lot of benefits and it outnumbers similar popular options, like metal or wooden surfaces.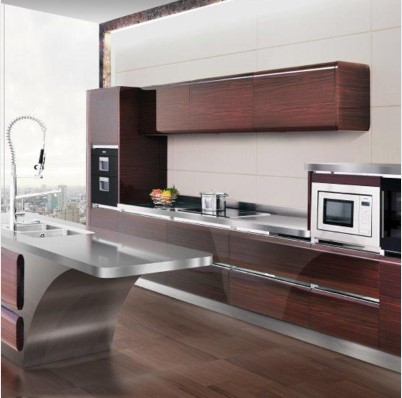 Quick Details:
| | |
| --- | --- |
| Type:Kitchen Cabinets | Place of Origin:China (Mainland) |
| Brand Name:FADIOR | Model Number:X001 |
| Accessories:Backsplash, Drawer Basket, Drawer Slide, Faucet, Handle & Knob, Hinge, Lazy Susan Storage, Rice Box, Sink, Toe Kick, Waste Container | Style:Antique, Classic, Modern all are available, Antique, Classic, Modern all are available |
| Carcase Material:stainless steel | Door Material:stainless steel |
| Door Panel Surface Treatment:stainless steel | Cabinet Type:Modular Kitchen Cabinets |
| Countertop Material:Stainless Steel | Countertop Edging:Flat Edge / Eased Edge |
| Name:Stainless Steel Kitchen Cabinet | Material:304 Stainless Steel |
| Dimensions:customized | Thickness:18mm |
| MOQ:1 set | Warranty:30 years |
| Certification:ISO9001:2008 | Payment terms:T/T or L/C at sight |